Stryder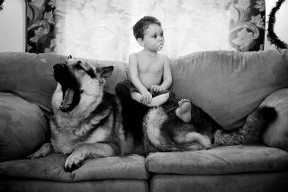 I learned at a young age that how you start something can be a very good way to determine how it will end. The thing that impressed me about Guardian Angel Shepherds is that they start with top Sires and Dams. When my wife and I went to look at the pups the first thing we saw were the mom and dad, and honestly after seeing them I was ready to pay for our pup without even looking! But of course we looked at the two pups and got Aragorn "Stryder" Vom Angelhaus. Stryder and I work for the Sedgwick County Search and Rescue team. This is one of the main reasons I was looking for a high quality, reputable breeder, and I am so glad that we found Laurie Hein and her Guardian Angels.
Search and Rescue dogs are held to a very high standard by the organization and the public. Having this in mind, a great breeder will put together the best genetics, translating into good temperament, smart, and loyal dogs. Guardian Angel Shepherds does this all.
Now six months later, I have not been wrong. Stryder has passed his CGC test at five months old, several temperament tests and has made very impressive progress with our SAR (Search And Rescue) team. We have also had another addition to our family with our first son! Stryder definitely sees him as his little brother. He is so patient with little Loren pulling on his tail, hair, and face. Stryder is loving, protective and loyal.
If you are thinking of purchasing a pup, I can save you some time I have done extensive research and I know you will also find that Guardian Angel Shepherds to be only of the best quality.
Loren Tracy of Wichita, KS
Jada and Kody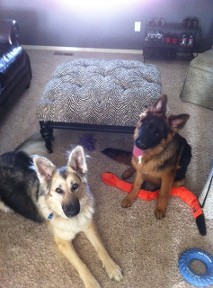 I've gotten to personally know Laurie and Dan. They are wonderful people that have wonderful dogs. I adopted Miss Jada from them and I'm getting a puppy from them too very soon. These dogs are made up of high quality, high standards, and most of all, lots of love and care. Good job Laurie and Dan.
Jennifer Cropp of Wichita, KS
Moses and Joana
My shepherd passed away in 2011 and we had been mulling over the idea of getting another one. I was hesitant because we had some health issues with him (weak hips and skin allergies). We also have young children (5 and 7). I looked into breeders in the area and really there was just one that stood out to us: Guardian Angel Shepherds. Laurie and Dan's dogs are amazing. I originally planned to go visit and meet with them, but once we got there I couldn't leave without a dog! Moses is 3.5 months old now and he is super smart and really funny. He is great with the kids, too. To top it off, they were retiring Moses' mom, Joana, from breeding (a year earlier than most breeders do), and wanted to get her into a good home. We agreed to take her on a trial basis, and now we have two FANTASTIC dogs. It could not have worked out better!!! So glad to have worked with Guardian Angel German Shepherds!!!
Chris and Beth Lewis of Wichita, KS
Zia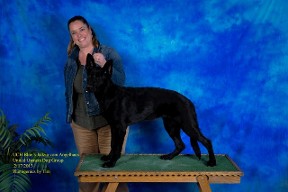 I had the pleasure of meeting Dan and Laurie and 3 beautiful, even tempered GS's in person. What I saw was a wonderful pack leader with wonderful dogs. I have been invited to come and visit the kennel, train with her pack, and get a pup when the time is right for my pack. I can honestly say without a doubt that GA is a wonderful kennel that puts the love first before any breeding or titles.
I have been wanting for a Guardian Angel Shepherd since I met Baron, Eikon, and Knight. The right time finally came. Braven's yellow girl aka Blue's Jadzai vom Angelhaus (Zia) is wonderful!!! Laurie, thank you for a beautiful girl. I can't wait to see what she does!
Ala Johnson-Arends of Shreveport, LA
Kai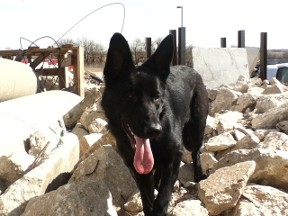 The day I dialed Guardian Angel German Shepherds' phone number has changed my life more than I could possibly imagine! I wanted to get a GSD for 2 years, finally found one (do not want to name that breeder), but the breeder was really hard to deal with. I was quite heart broken and then my friend gave me this phone #. I made a phone call and 40 minutes later I was on my way to meet my wonderful Jade Kai vom Angelhaus and her breeder Laurie. Laurie was friendly, welcoming and I could immediately tell how much she loves her dogs. I was very impressed how well her dogs behaved and how clean they were kept. GSDs are great dogs, but getting one from the right breeder makes a world of difference! My Kai was 9 weeks old when I brought her home. I had her potty trained within 3 days. Kai has no health issues or behavior problems. She is an inside dog, went through teething without destroying any of my things and is very obedient. She is intelligent, beautiful, level headed and gentle. Kai is training to be a search and rescue dog and everyone loves her. If I were to ever buy another dog it would have to be a Guardian Angel dog. I highly recommend Guardian Angel German Shepherds!
Petra Newman of Wichita, KS
Baldar and Dharma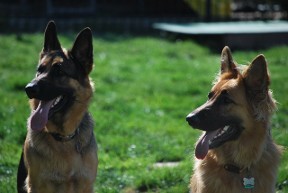 We are the proud owners of two Guardian Angels GSDs. Both dogs are stable, healthy and wonderful companions. We toured the kennels before the purchase of our first, and worked with Laurie on the selection of the second from upcoming litters. Wonderful dogs, wonderful people.
Kevin and Michelle Hopkins of Wichita, KS
Brandy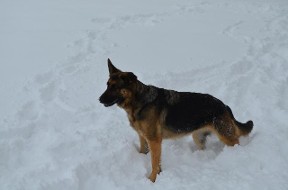 Guardian Angel shepherds are some of the most beautiful shepherds around. Before we bought our Brandy we visited Laurie and her kennels and I cannot express how impressed we were. Laurie loves all of her shepherds and it shows. The time she puts into having quality puppies far exceeds anything I have seen. We love Brandy and are glad we found Laurie and her family, they have been a blessing to us!
Tina Prunier of Derby, KS
Zeek and Nikki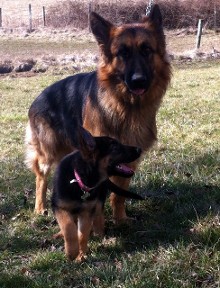 I would highly recommend Guardian Angel German Shepherds. I purchased one puppy and am so impressed with her shepherds and how she cares for them. Not too many breeders like Laurie!
Donna Spradlin of Otway, OH
Moiser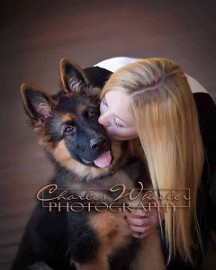 Laurie and Dan welcomed us in their home to visit before we made a decision if a GSD was right for our family. We were invited to come back as often as needed. Absolutely love our pup we got. He has stolen my heart. We will be getting our next one at the end of this year. Wonderful breeders.
Kevin and Amy Rodgers of Mount Hope, KS
Darla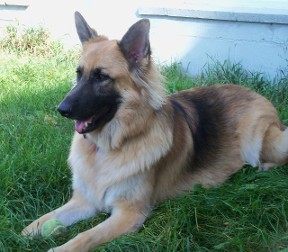 My wife and I are very pleased with our experience with Guardian Angel German Shepherds. Dan and Laurie handled all of the shipping arrangements, and made the process of acquiring our Darla as seamless and stress free as possible. They remain in touch and are both friends and a trusted, knowledgeable GSD resource. Our Darla is a healthy, beautiful, spirited, and intelligent girl who will be a beloved member of our family for many years to come! Thank you, Laurie and Dan, for everything!
John and Jan King of Owatonna, MN
Rayne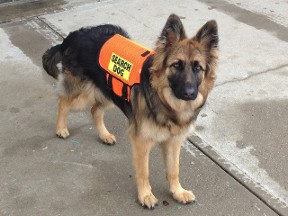 My daughter and I began searching for German Shepherds in April of 2012. On a weekend trip to Wichita we found Guardian Angel German Shepherds. I called Laurie to see if we could come see the dogs and she was readily available to meet with us. When we arrived we immediately feel in love with Baron and we found out that Joana was pregnant from Baron. We put a deposit down the next day for the pick of the female litter. Laurie kept in constant contact with us letting us know how Jo was progressing. Laurie knew that we wanted a family pet as well as one with drive that could handle search and rescue work. Rayne was born in June and we were able to bring her home the last weekend of July. Now raising a puppy with high drive was not as easy as I had expected. There were many calls to Laurie asking questions and I can assure you that she was with us every step of the way. Within a couple of months we were past the hard part and on to the fun!!! Rayne is a absolutely beautiful German Shepherd and has a heart of gold. I took her to the vet in December with a cough and within 5 minutes of meeting Rayne the vet asked if he could buy her from me. Of course we said no and he said he has a friend who trains dogs for avalanche searches and she would be the perfect dog. He told me not to let her abilities go to waste and to please get her involved in search and rescue. On March 27, 2013 Rayne was officially accepted to start training with KSARDA. I would tell anyone to make sure they check out Guardian Angel German Shepherds when looking for a puppy. You can check with as many breeders as you like and go see the animals but I can promise you that you will come back to get your puppy from Guardian Angel German Shepherds.
Mike and Kim Gage of Kansas City, KS
Loki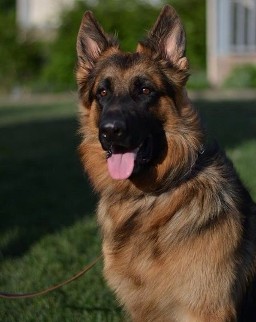 Guardian Angel German Shepherds are the best. Laurie, Dan and family are caring, compassionate people who really strive to breed the best of the best. You won't find a more caring, personable, and reputable breeder. The care and love that goes into their german shepherd family members is amazing. And that's what their dogs are; family.
They start with health tested and certified sires and dams. Their dogs train and test for canine good citizen among many other achievements. They strive to improve the breed and produce the best german shepherds out there. A lot of times they keep in touch with the dogs and their families even after adoption, and are very friendly and helpful. They are very responsible breeders.
I adopted Odin "Loki" Vom Angelhaus in Feb 2014. It was the best decision I've made in a long time. I had recently lost my female shepherds, and Loki just called to me. Laurie gave me a chance on him, and I'm so thankful she did. Not only did it do my heart some good, it did his as well. I've since become very good friends with Laurie and Dan and the entire Guardian Angels family. Loki and I visit them frequently, as well as train and compete together with them.
I can't wait to get another pup from Guardian Angels, and highly recommend them.
April Morris of Clearwater, KS
Lakota and Memphis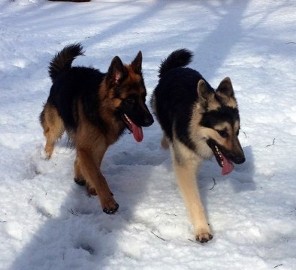 Laurie and Dan Hein of Guardian Angels German Shepherds come very hightly recommended. I am elated with my two German Shepherd pups I purchased from them. They both have excellent bloodlines and I am pleased to know they are bred from high quality. Presercing, respecting, and love for the German Shepherd breed is apparently a focus at Guardian Angel GS. Laurie is a pleasure to work with and always communicates in a timely manner!! The results of her breeding program have fiven me two incredible companions with beauty and temperament to match. Thanks to both Laurie and Dan for their dedication to their extended fur family members and the German Shepherd breed.
Carolyn Walker Lindsey of Belmont, NC