SG1 UGrCh TED E BARON ANGEL VOM SIMPSONHAUS, TAN, HIC, CGC, TDI
PennHIP 60%
OFA GOOD h/e
DM A/N
"Baron"

Baron took first place in the 2010 Mid-Central Reginal Conformation Championship. He was rated SG1 by USA Judge Koermeister Johannes Grewe. Baron is a black / red, long coat. He is from the West German showline/ working line. Baron comes from strong schutzhund and show lines. His pedigree is outstanding with many generations of good hips and elbows. Baron is a large boned, with perfect height, weight, and an outstanding temperament. He is a dominant, protective male that has a gentle loving nature as well. His puppies excel in schutzhund, obedience, agility, herding, German/UKC show, and SAR. At the AKC show in Wichita, KS on April 9th, 2011, Baron earned his Herding Instinct Certificate. Baron also earned his TAN certificate in March of 2011. In November 2011, Baron won Best Male, Reserve Best Male, and three First Place in his class in UKC Conformation. Baron is currently working on his BH in Schutzhund. In Feb 2012 Baron finished his championship in UKC in Jefferson, TX and earn one leg towards Grandchampion in Hutto, TX. Baron passed his Therapy Dog test on 6/27/12!! In April 2014, Baron received his last competition win to complete his Grand Championship.
SG3 UGrCH GUARDIAN ANGELS EIKON V SCHLOSSFELSEN CGC, HIC
OFA PRELIM FAIR
PennHIP
DM N/N (clear)
#5 Top Ten German Shepherd for UKC 2014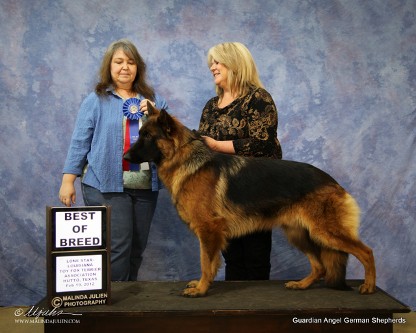 "EIKON"
Eikon is our newest beautiful black/red long coat, West German Showline that shows great promise for breeding and show. Eikon (pronounced Icon) comes from parents that are german imports and dam having excellent hips. Parents come from all schutzhund titled bloodlines with lots of Seiger world champions. Eikon completed basic obedience and is working on his CGC. Eikon is showing great drive and has begun his imprinting in schutzhund . In November 2011, Eikon won Best Male, Reserve Best Male, and two First Place in his class in UKC Conformation. Eikon finished his championship in Hutto, Texas in Feb '12 at 13 months old. Where he also took Best of Breed and 2nd in Herding Group. In April 2013, Eikon earned his Herding Instinct Certificate (HIC). He also finished his UKC Grand Championship in Tonganoxie, KS in April 2013. In May 2013, Eikon received an SG3 rating by a German judge at the National Sieger Show in Wisconsin.
UKC CH DREAMWORKS KNIGHT IN WHITE SATIN, CGC, HIC, URO1, SPOT (Belguim)
OFA PRELIM EXCELLENT
PennHIP
DM N/N (cleared by parentage)
Total Dog Award Omaha, NE 2015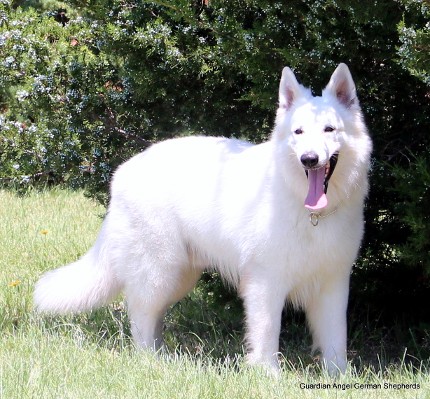 "KNIGHT"
Knight is our long coat white male that just arrived from Belgium. Knight is a big boned, medium drive, stunning long coat german shepherd. He will be working on his CGC and TDI certificates this year. Knight has a wonderful personality and full of promise in breeding. Knight, at 7 months old, in two weekends completed his UKC Championship in Conformation in Jefferson and Hutto, TX. In Tulsa, OK in January 2014, Knight did his first UKC Rally competition and earned points toward his championship.
UCH Buzz Von Arlett CGC (Germany)
OFA H/E Good
PennHIP
DM N/N (clear)
"Buzz"
Buzz is the son of VA1 Iliano vom Fichtenschlag SCHH1 of Germany. In March 2014 in Cheney, KS at his first UKC Conformation show, he took two Best Puppy in Show wins. He will continue to show once he reaches 6 months of age and work towards his championship in conformation. Buzz has also completed his basic obedience and earned his CGC. In November 2017 in Norman, OK Buzz earned his UKC Champion title in conformation.
UCH Sirk Vom Vogelsberger Sudhang CGC Spot-On (Germany)
OFA H/E GOOD/NORMAL
PennHIP
DM N/N (clear)
"Sirk"
Sirk is a long coat solid black that comes to us from Germany with west German working lines. He has excellent size and structure. His drive is well above average showing potential in schutzhund but his looks and temperment will get him far in the show ring. Within the next year Sirk will be working towards a Championship with UKC. He has already passed his basic obedience with flying colors and will be attending advanced classes to obtain his HIC and CGC. In December 2016, Sirk took Best Male as a major win towards his UKC championship. In November 2017 in Norman, OK Sirk earned his UKC Champion title in conformation.
Ricky vom Klostermoor (Germany)
DM A/N
"Ricky"
Ricky's sire is the famous VA1 BSZS 2018 Willy vom Kuckucksland from Germany. He was imported for his beauty, structure, pedigree, health, and big boned. He shows a great temperment, and very promising for show. Look for great things from this boy!